Traditional Machine Look and Feel
By choosing the WMF espresso, you can benefit from the best of both worlds: the convenience and efficiency of an automated coffee making system, combined with the emotional appeal and sensory experience of a traditional espresso machine.
The machine boasts a classic design, and enables baristas to manually handle the portafilter and foam milk if desired. This allows for a more personalised touch and the opportunity to create a unique, tailored experience for customers.
Portafilters
With the WMF espresso, you'll have the flexibility to use portafilters of varying sizes to brew one or two cups of coffee. This feature allows you to customise your brewing experience, ensuring that you can cater to your customers' preferences.
The machine is also equipped with advanced technology that automatically detects the portafilter in use and displays only the appropriate coffee selections. This makes the brewing process faster and more efficient, while also helping to reduce errors and improve consistency in the final product.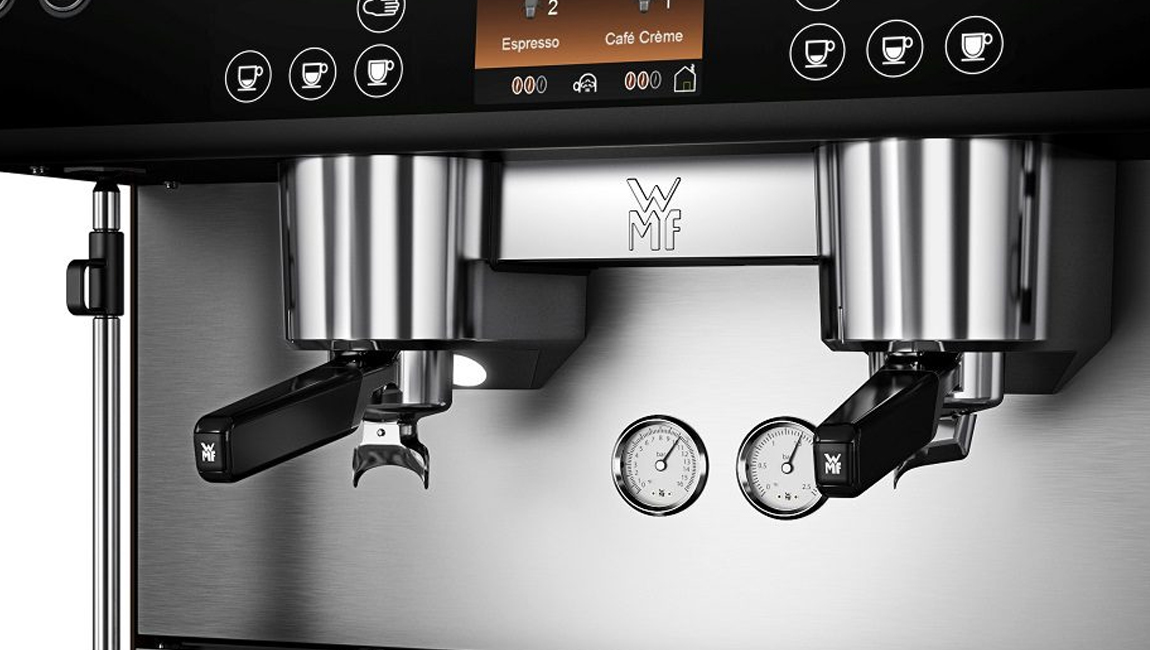 2 Integrated Grinders & Automatic Tamping
The quality of espresso produced by the WMF espresso is unmatched, thanks to the advanced features of its two integrated grinders. These grinders are equipped with precision-honed disks that are designed to deliver consistent and uniform coffee grounds, resulting in an exceptional cup of espresso every time.
Moreover, the machine features an automated tamping system that ensures 100% consistency in the tamping process, providing an even extraction and further enhancing the flavour and aroma of the espresso. This means that you can expect a delicious and high-quality cup of coffee every time you use the WMF espresso.
Air-Cooled Bean Hoppers
The WMF espresso offers a variety of options for storing coffee beans, providing maximum flexibility for baristas. The machine features two concealed bean hoppers, each with a capacity of 550 g, which are air-cooled to help maintain the quality and freshness of the beans. These hoppers can be used to store different types of coffee, such as espresso and café crème.
Additionally, the machine now offers the option of larger, visible hoppers with a capacity of 1100 g each, which can make it easier to monitor and refill the beans. This means that you can choose the option that best fits your needs and preferences when using the WMF espresso.
External Bean Hoppers
The WMF Espresso has been updated to offer increased capacity, space efficiency, and flexibility. One of the new features is the availability of two large, visible bean hoppers, each capable of holding up to 1100 g of beans. This provides an added convenience for baristas, allowing them to easily switch between two types of beans, such as espresso and Café Crème, without having to constantly refill the hoppers.
The hoppers are also designed to be compact, with a height of 128 mm, making the machine more space-efficient and easier to fit into any workspace.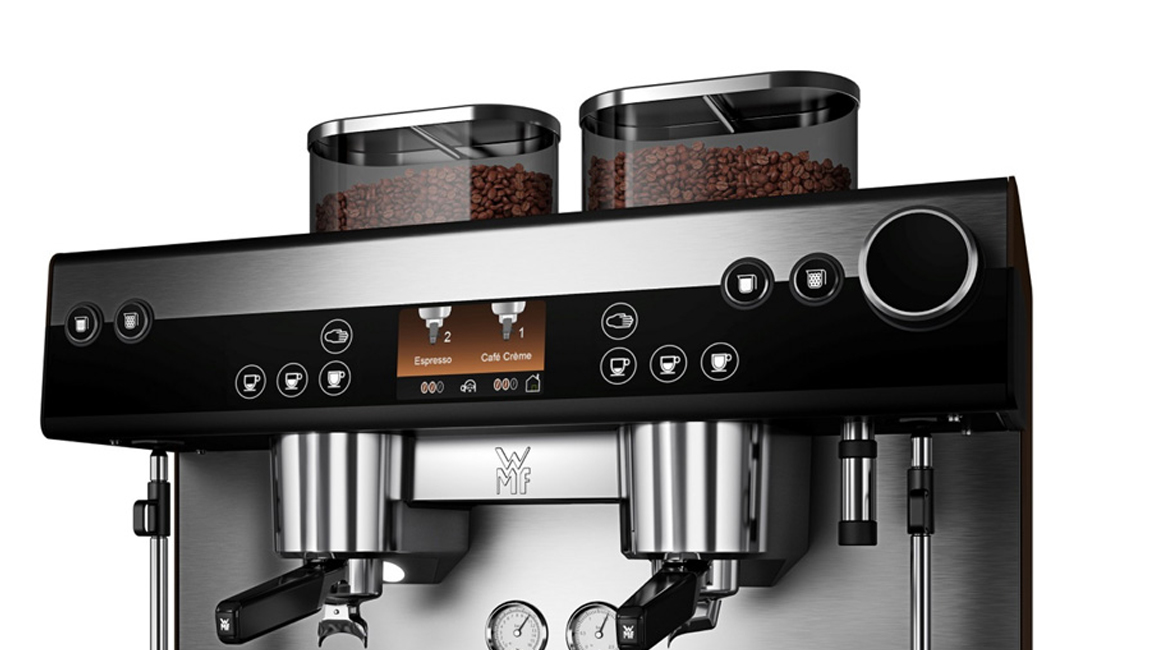 Automatic or Traditional Milk Foam Preparation
The WMF Espresso offers a variety of options for creating the perfect milk foam, making it an ideal choice for baristas looking to create a customised coffee experience. With the Auto Steam wand, the machine can produce three different consistencies of milk foam automatically at the touch of a button.
Alternatively, the operator can choose to foam milk manually using the second basic steam wand, allowing for greater control and the ability to create latte art in the traditional barista style. This feature provides baristas with the flexibility to experiment with different techniques and create unique, visually stunning drinks that will delight their customers.
Second Auto Steam Wand
The WMF Espresso is designed to optimise the handling time and efficiency of your business, with a variety of features that are tailored to meet the needs of busy baristas. In addition to the central SteamJet, which preheats cups and ensures that every drink is served at the perfect temperature, the machine also comes equipped with an Auto Steam wand for automatic milk foaming.
For even faster service, an optional second Auto Steam wand can be added, allowing baristas to produce multiple drinks simultaneously and reducing wait times for customers. This feature is ideal for high-volume environments, where speed and efficiency are critical to success.
Dual Height-Adjustable Cup Trays
The WMF Espresso is equipped with advanced technology that is designed to optimise the coffee-making process and ensure that every drink is served at the perfect temperature. One of the standout features of the machine is its integrated, height-adjustable cup trays, which are located on both sides of the unit.
These trays are designed to provide optimal clearance for any type of cup, ensuring that each beverage is served at the ideal temperature and preventing spills and drips that can cause mess and clutter. This feature not only enhances the overall customer experience but also helps to keep the machine clean and in excellent working condition.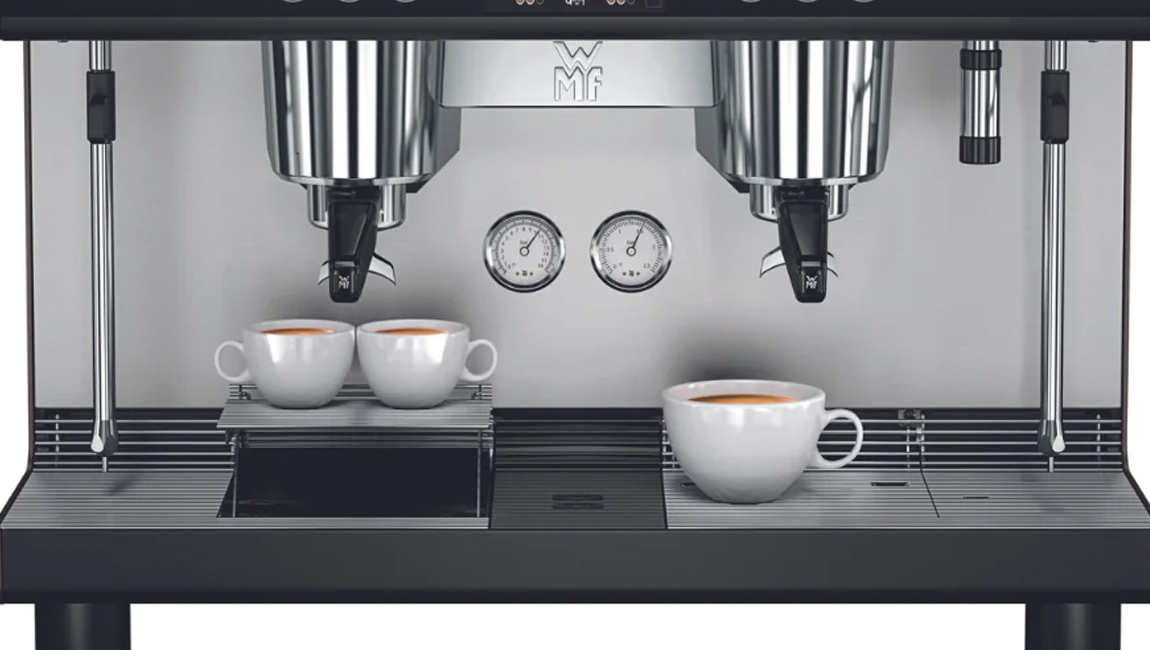 Heatable Cup Storage
The WMF Espresso is designed with the needs of baristas in mind, providing a range of features that enhance the efficiency and convenience of the coffee-making process. One such feature is the practical heatable cup storage, which is located conveniently on top of the machine. This storage is designed to keep cups close at hand and ready for use at all times, eliminating the need to search for cups or make frequent trips to a storage area.
With heatable cup storage, cups are always warm and ready to go, which can help speed up the coffee-making process and improve the overall customer experience. The integrated bean hoppers are also located on top of the machine, eliminating the need for additional space and making the WMF espresso a space-efficient choice for any business.
Parallel Coffee and Hot Water Preparation
The WMF Espresso is designed to optimise the coffee-making process and enhance the efficiency of your business. One of the standout features of the machine is its ability to dispense coffee and hot water simultaneously, which can help to save precious time and streamline the coffee-making process. With this feature, baristas can quickly and easily prepare a variety of beverages without the need to wait for water to heat up or switch between different dispensers.
This not only helps to save time but also improves the overall flow of the coffee-making process, ensuring that customers receive their drinks quickly and efficiently.
Colours for Every Taste
The WMF Espresso is a stylish and versatile coffee machine that is designed to enhance the ambience of any setting. It is available in a wide range of colours, from classically elegant to vividly modern, so you can choose the perfect look to suit your business or personal preferences.
Whether you want the machine to blend in seamlessly with its surroundings or make a bold statement, the WMF Espresso has a colour option to suit your needs. With its sleek and contemporary design, the machine is sure to enhance the aesthetic appeal of any environment, while also delivering delicious coffee and a high-quality customer experience.
Dynamic Coffee Assist
The WMF Espresso is equipped with advanced Dynamic Coffee Assist technology, which is designed to optimise the coffee-making process and ensure consistently high-quality espresso every time. This intelligent technology continuously monitors a range of factors that influence the quality of the coffee, including the amount of ground coffee and the degree of grinding, and automatically adjusts these variables to ensure the perfect extraction time.
This helps to guarantee a consistently high-quality espresso, no matter who is operating the machine or what the conditions are like. With Dynamic Coffee Assist technology, you can have complete confidence in the quality and consistency of the coffee you serve, helping to build a loyal customer base and drive your business forward
Hot Chocolate
Experience the ultimate indulgence with the WMF Espresso and its standout hot chocolate feature. This machine is expertly designed to deliver a rich and velvety hot chocolate drink that will leave you wanting more. The specialised chocolate dispenser and hot milk system work in harmony to produce the perfect blend of chocolate and milk.
With the ability to customise the milk and chocolate ratios, adjust the temperature, and control the froth level, the hot chocolate produced by the WMF Espresso can be tailored to individual preferences. This ensures a consistently delicious hot chocolate that is of the highest quality. The WMF Espresso is the perfect choice for those who appreciate exceptional espresso and crave an equally exceptional hot chocolate experience.
WMF CoffeeConnect as a standard
WMF CoffeeConnect is a powerful tool that allows you to collect and analyse valuable data from your coffee machines, no matter where you are. With this innovative system, you can get real-time sales figures, track your inventory of consumables, and receive alerts when maintenance is required. You can also take advantage of the bidirectional design of the system to send customised promotional offers directly to the display of a selected machine, helping to increase sales and drive customer loyalty.
Best of all, the basic functions of WMF CoffeeConnect are available to you free of charge, making it a valuable and cost-effective tool for optimising your business processes and improving your bottom line. With its advanced data analysis and processing capabilities, WMF CoffeeConnect is the perfect solution for any coffee business looking to reduce service costs, improve efficiency, and boost sales.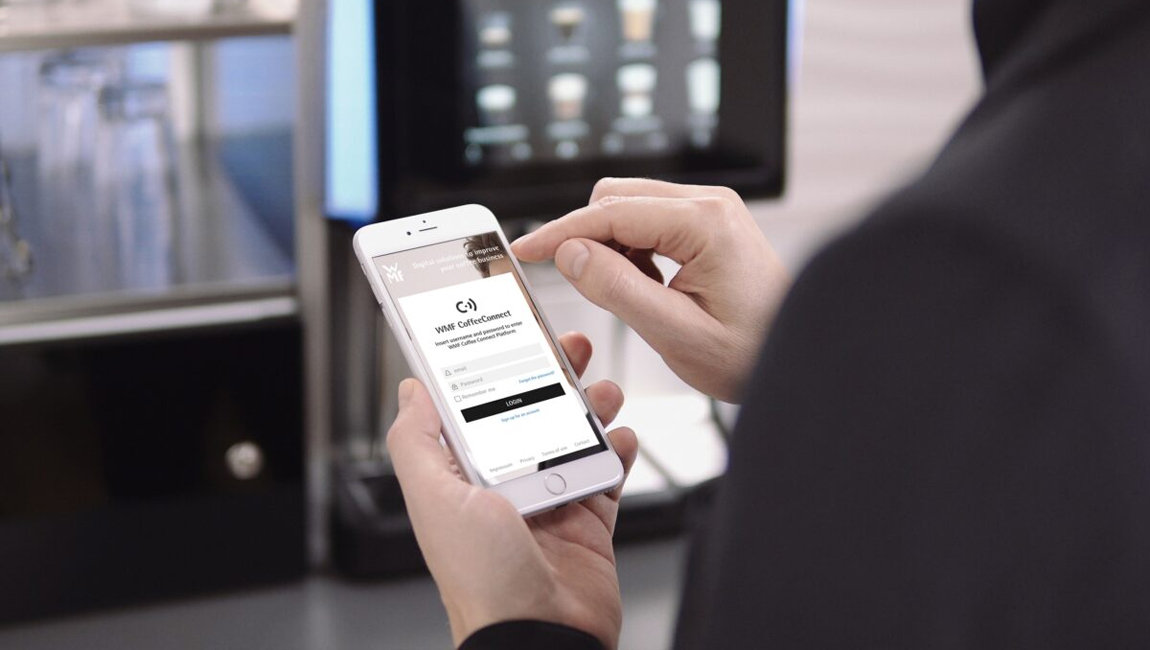 Technical Specifications
| | |
| --- | --- |
| Output per hour* | Up to 300 cups |
| Nominal Output / power supply | 6,0 - 7,0 kW / 380 - 415 V |
| Coffee bean hopper | each approx. 550 g |
| Outer dimensions (width / height** / depth) | 723 / 580 / 540 (600 with suspended cup storage) mm |
| Empty weight | 75 kg |
| Continuous sound pressure level (LpA)** | < 70 dB (A) |
* Depends on nominal power rating, mains power connection and recipe settings
** The A-rated sound pressure levels LpA (slow) and LpA (impulse) at operating personnel work stations are below 70 dB(A) in every operating mode.

A WMF water filter needs to be used with a carbonate hardness of 5° dKH and above.
Great Taste Guaranteed
Free Delivery
Customer Feedback