Up to 4 Grinders
With a focus on innovation, the grinders in this cutting-edge machine are electronically controlled, ensuring optimal performance and longevity. Built with durability in mind, they are finely tuned and robust, able to withstand the demands of frequent use.
Additionally, their quick and remarkably quiet operation ensures minimal disruption in even the busiest environments. These features combine to provide a coffee-making experience that is both efficient and enjoyable.
Heavy-Duty Brewer
Crafted from premium stainless steel, the brewer in this state-of-the-art machine is an invaluable component, providing unparalleled performance and unrivalled reliability over time. Its robust construction ensures it can withstand frequent use without sacrificing quality, and its innovative design ensures consistent and reliable results with every brew.
Whether for personal or commercial use, this brewer is a worthwhile investment, offering the perfect blend of function and durability for a superior coffee-making experience.
10" Colour Touch Display
Navigating the features of this advanced coffee machine is made easy thanks to the large 10" colour touch display. The user-friendly interface features intuitive touch and swipe menus that are both accessible and customisable.
With the option to add your own colour scheme, logos, and beverage images, this display is perfect for enhancing the branding of your business. Additionally, it can be utilised to present nutritional information and can even display advertising images and videos, making it a versatile and useful tool for any coffee establishment.
Create Your Own Specialty
One of the standout features of the WMF 9000 S+ is its ability to create custom speciality blends with ease. With the option to utilise up to four grinders per recipe and adjust the ground coffee proportions, this machine allows for endless experimentation and customisation.
The result is a personalised coffee experience that caters to individual tastes and preferences. This innovative feature makes the WMF 9000 S+ a versatile and valuable addition to any coffee shop or business looking to offer a truly unique and customisable coffee experience.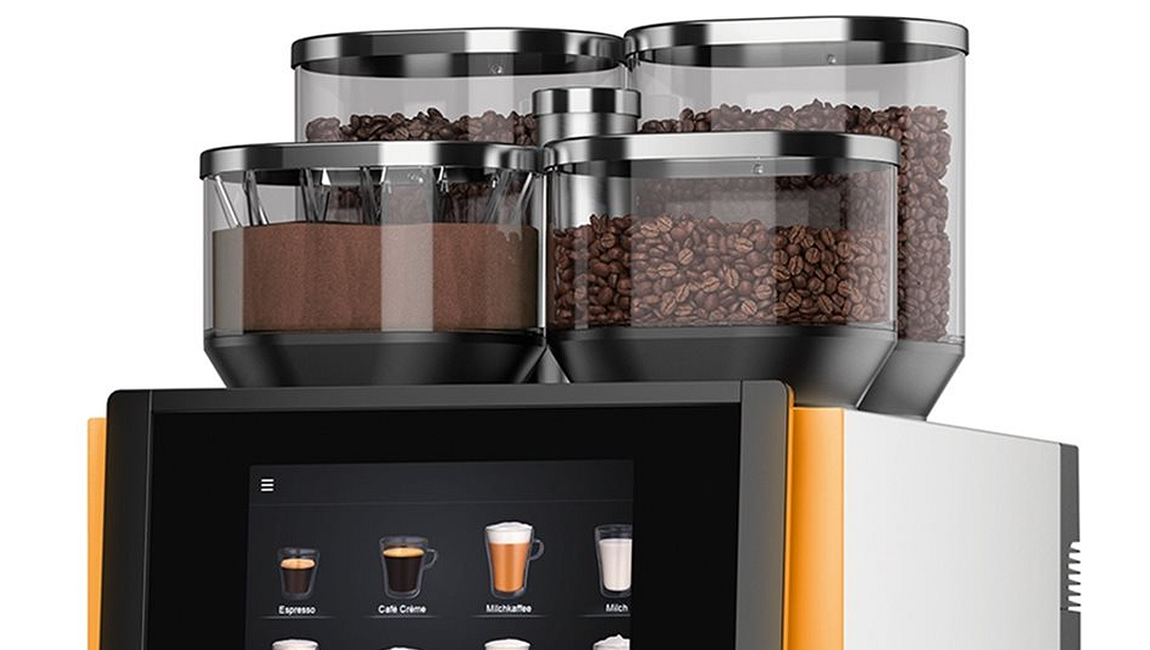 Individual Optimised Temperatures
Brewing the perfect cup of coffee requires precision, and the WMF 9000 S+ delivers just that. With the option to set an optimised water temperature for each beverage, this machine ensures that every type of coffee is brewed at its ideal temperature.
This precision results in outstanding quality and flavour in every cup, whether it's a bold espresso or a smooth latte. The WMF 9000 S+ takes the guesswork out of the brewing process, allowing you to trust in the consistent quality and taste of every cup of coffee you serve.
2-Milk Solution
One of the key features of the WMF 9000 S+ is its ability to accommodate a range of milk options, allowing you to offer your customers a wider selection of choices. With the option to attach two different milk sources, you can easily incorporate low-fat, lactose-free, or soya milk into your menu, catering to a diverse range of dietary needs and preferences.

This flexibility enables you to provide a more personalised and inclusive coffee experience for all your customers, ensuring they leave your establishment feeling satisfied and valued.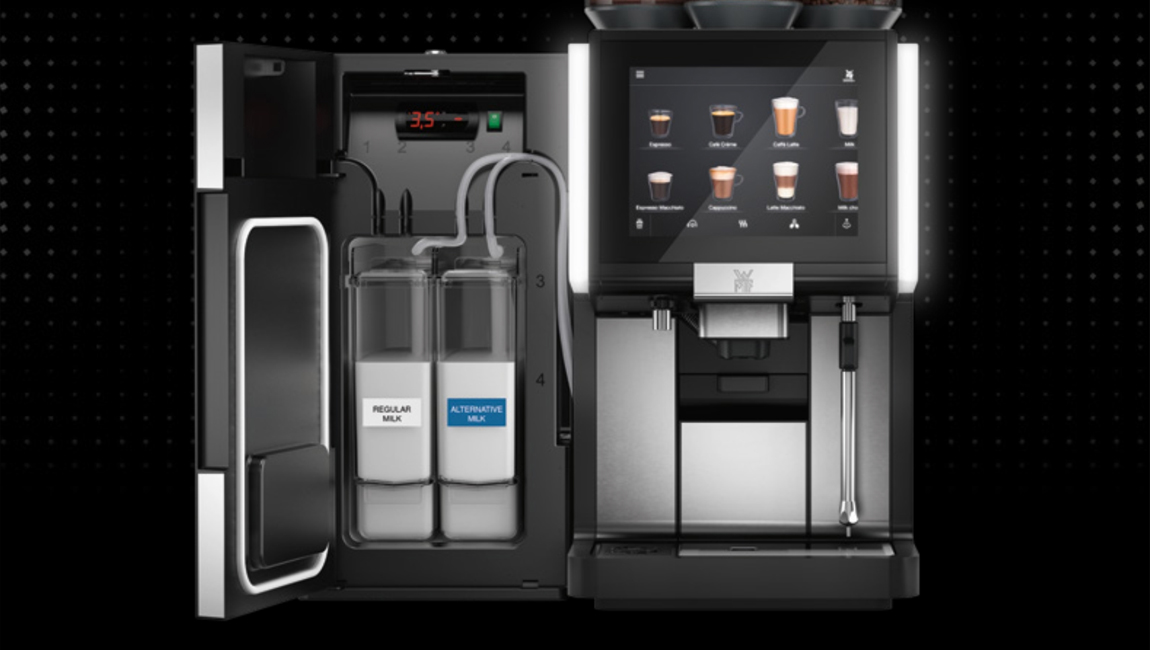 Dual Milk
Dual Milk is a technology that allows the machine to produce both hot and cold milk foam simultaneously, which is particularly useful for making drinks like cappuccinos and lattes. This is achieved by using two separate milk containers and frothing systems.
One container is used for cold milk and the other for hot milk. This allows the machine to produce both types of milk foam at the same time, without the need for the user to switch between the two allowing the business to save time and increase efficiency.
Height-Adjustable Cup Table
Innovation meets practicality in the WMF 9000 S+ coffee machine. Featuring a cup table grid that moves upwards towards the fixed spout, the machine ensures that there is always the perfect clearance for any type of cup, no matter the beverage or setting.
This cutting-edge feature not only prevents unsightly splashes of milk, but it also helps to maintain the optimal temperature of the beverage, providing a consistent and enjoyable coffee experience every time. This thoughtful design makes the WMF 9000 S+ a standout choice for any business looking to enhance their coffee-making process.
Dynamic Coffee Assist
Experience the ultimate in coffee quality with the WMF 9000 S+ coffee machine. Equipped with intelligent technology, the machine continuously monitors a range of factors, including the quantity of ground coffee and the degree of grinding, to ensure the perfect extraction time for consistently high-quality espresso.
This automatic adjustment process takes the guesswork out of brewing, guaranteeing optimal results every time. The result is a consistently excellent cup of coffee that customers can rely on, making the WMF 9000 S+ a valuable asset to any business seeking to provide a superior coffee experience.
Dynamic Milk Assist
The WMF 9000 S+ coffee machine is a true innovation in the world of coffee-making. Utilising advanced technology, the machine constantly monitors both the milk flow and temperature in the milk cooler to ensure consistent milk foam quality.
This automatic adjustment process guarantees optimal results every time, protecting the milk foamer while providing a superior coffee experience. This cutting-edge feature makes the WMF 9000 S+ a standout choice for businesses seeking to enhance their coffee-making process and provide a consistent, high-quality product that customers can rely on.
Hot Chocolate
Indulge in a truly luxurious hot chocolate experience with the WMF 9000s+. This machine features a standout hot chocolate capability that delivers a rich and velvety hot chocolate drink. The chocolate dispenser and advanced hot milk system work in unison to create a perfect balance of chocolate and milk.
The hot chocolate can be tailored to individual preferences, with the ability to adjust the milk and chocolate ratios, temperature, and froth level. This level of customisation guarantees a consistently delicious hot chocolate that is of the highest quality. The WMF 9000s+ is the ultimate hot chocolate experience, providing a perfect indulgence for those who seek nothing but the best.
WMF CoffeeConnect as a Standard
The WMF 9000 S+ coffee machine is more than just a tool for making coffee. With its innovative CoffeeConnect feature, you can collect valuable machine data and obtain an overview of your sales figures and current service information no matter where you are. You'll also receive warnings when consumables are running low or when maintenance is required, allowing you to proactively address any issues before they become a problem.
The system's bidirectional design also allows you to send tailored promotional offers directly from your desk to a selected machine's display, driving sales and revenue growth. This powerful tool collects, analyses, and processes data about your coffee machines, enabling you to optimise processes, reduce service costs, and ultimately boost your sales. The basic functions of CoffeeConnect are available to you free of charge, making it an essential tool for any business looking to elevate its coffee-making capabilities.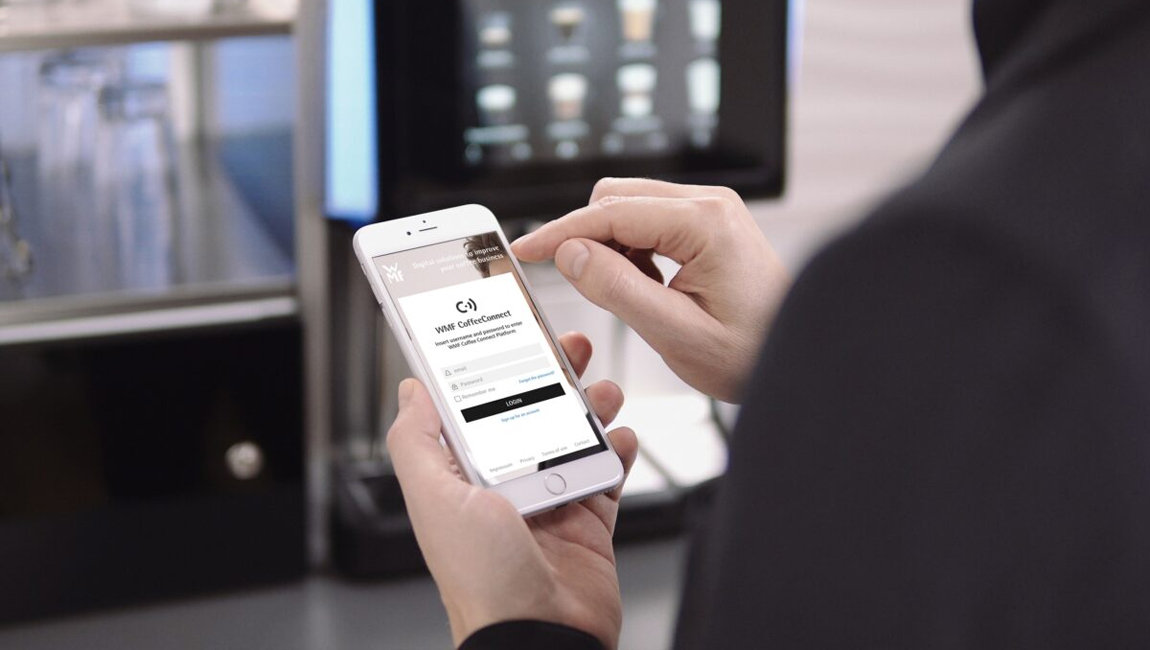 Technical Specifications
Recommended daily or maximum output per hour*
Up to 350 cups
Nominal power rating / mains power connection
3,4–3,8 kW /220–240 V
6,0–7,0 kW /380–415 V
Output per hour according to
DIN 18873-2*
Espresso / 2 espressos
Café Crème / 2 café crèmes
Cappuccino
150/242 cups
130/152 cups
150/238 cups
Total hot water output / hour (220–240 V)
120 cups
Total hot water output / hour (380–415 V)
190 cups
Energy loss per day according to DIN 18873-2 (220 and 380 V)
Approx. 2,59 kWh
Hot milk beverages
✔
Hot milk foam beverages
✔
Cold milk beverages
✔
Cold milk foam beverages
✔
Clean-in-place cleaning system**
Clean in Place**
Coffee bean hopper
Large rare approx. 1200 g, small front approx. 700 g
Choc or topping hopper (optional)
Approx. 1200 g
xternal dimensions (width / height*** / depth)
390 / 744 / 598 mm
Water supply
Constant water supply
Empty weight, depending on model
Approx. 67 kg
Continuous sound pressure level (LpA)****
< 70 dB(A)
* Output is determined using a machine with a constant water supply and is dependent on cup size, quality settings, spout, model and nominal power rating. The recommended maximum daily capacity is based on our catalogued service concept. However, these average values serve merely as a guideline. Let our trained WMF team match the ideal coffee machine design to your specific needs.
** The clean-in-place cleaning system has the advantage that the foamer head no longer needs to be detached and cleaned manually as well.
*** Height with coffee bean hopper with lock, without key.
**** The A-rated sound pressure level LpA (slow) and LpA (impulse) at operating personnel work stations is under 70 dB(A) in any operating mode.

Above 5°dKH (carbonate hardness) a WMF water filter must be fitted.
Great Taste Guaranteed
Free Delivery
Customer Feedback