High Speed
For those seeking to satisfy the discerning palates of customers in high-pressure environments, the WMF 5000 S+ is the perfect coffee machine. This cutting-edge appliance is designed to make premium coffee specialities quickly and efficiently.
Whether you're running a bustling cafe or a busy office, the WMF 5000 S+ is up to the task. With its ability to consistently deliver high-quality espresso, cappuccino, and latte, this coffee machine is an investment in your business's success.
Parallel Coffee and Hot Water Preparation
When it comes to serving your customers during peak hours, the WMF 5000 S+ has got you covered. The 400 V models of this advanced coffee machine are designed to allow simultaneous dispensing of coffee drinks and hot water, ensuring a speedy and efficient service.
The optimised boiler in the WMF 5000 S+ delivers a powerful heating system of 9 kW, making it possible to handle even the busiest times of day. So whether you're running a bustling cafe or catering to a large event, the WMF 5000 S+ is the perfect solution to meet your high-volume needs.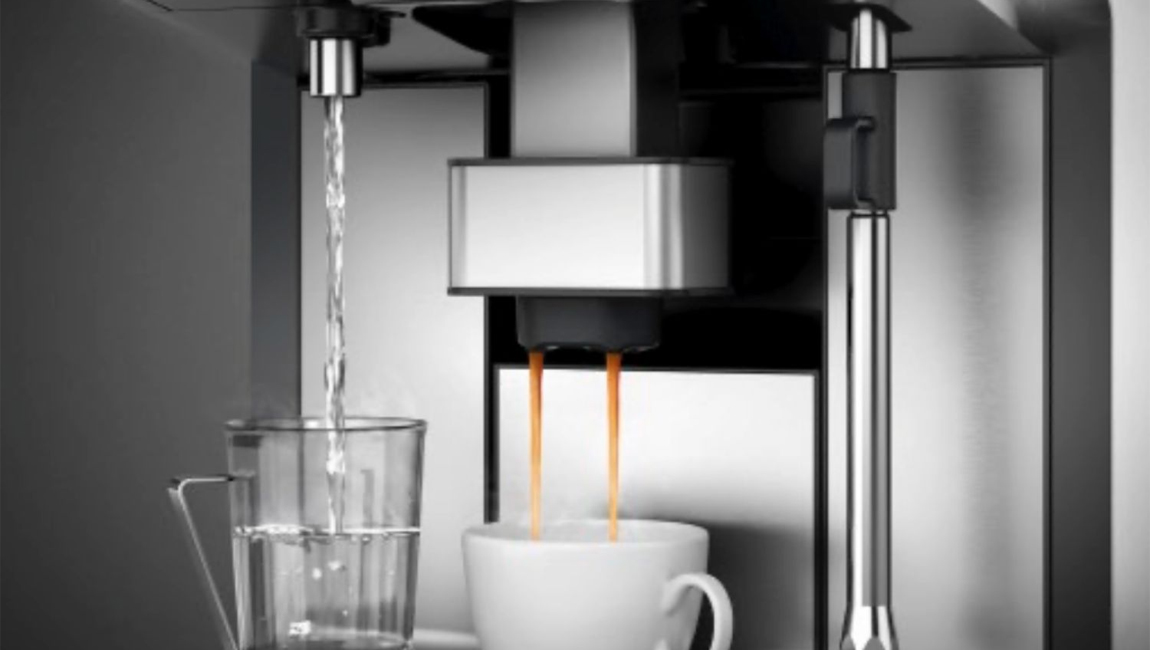 Heavy-Duty Brewer
Crafted in Germany using only the finest materials, the WMF 5000 S+ boasts a heavy-duty, stainless steel brewer that's built to last. Featuring hard-wearing components, this brewer delivers unparalleled performance and reliability for many years to come.
Its design includes a robust, die-forged frame and a fine sieve, making it perfect for preparing even the finest coffee recipes. With a 19 g capacity, this brewer can handle larger brewing batches in a single step, and as it's permanently installed in the machine, it requires no additional cleaning. Choose the WMF 5000 S+ for a coffee machine that delivers exceptional performance and long-lasting durability.
10" Colour Touch Display
The WMF 5000 S+ coffee machine is designed to engage your senses with its stunning 10" colour touch display. The display features realistic product depictions and individual colour schemes that immediately capture your attention. Navigation on the touch screen is both intuitive and familiar, allowing you to easily select your desired options with simple touches and swipes.
Whether you prefer served or self-service modes, the WMF 5000 S+ accommodates both with ease. With its versatility, the display can also be used to present important nutritional information or promotional videos to promote special offers at certain times of the day. Experience the perfect combination of technology and design with the WMF 5000 S+ coffee machine.
Dual Milk Solution
The WMF 5000 S+ coffee machine gives you the power of choice with its optional 2-milk solution. With this feature, you can offer your customers a variety of milk options, such as low-fat, soya, or low-lactose milk. The automatic switch valve function guarantees that the two milk types do not come into contact with each other during preparation, ensuring that only the selected milk type is used in each beverage.
This feature allows you to cater to a wider range of dietary needs and preferences, providing your customers with a personalised coffee experience that's perfect for them. Choose the WMF 5000 S+ coffee machine for a flexible and accommodating coffee solution.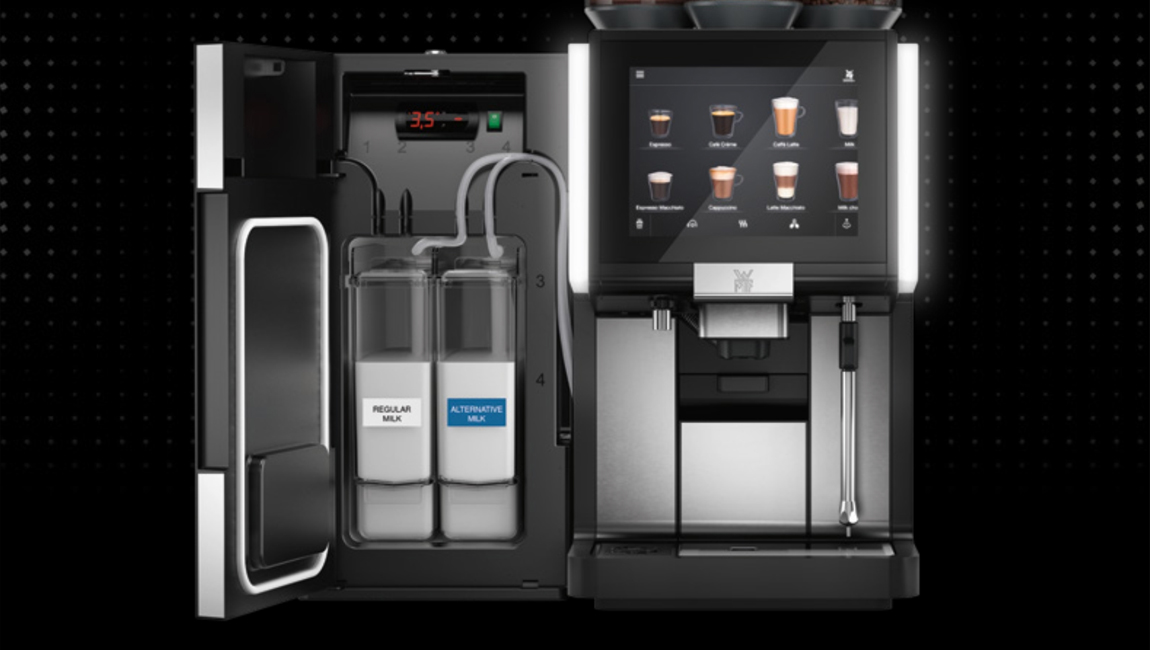 Automatic Height-Adjustable Spout
The WMF 5000 S+ coffee machine is designed to deliver a flawless beverage experience. Its advanced spout technology automatically adjusts to the optimal height for each beverage, ensuring that the temperature remains perfect, and any unsightly splashes of milk on the housing are a thing of the past.
Depending on the preset value for each recipe, this coffee machine provides a personalised experience that's perfect for each individual cup. With its precise measurements and innovative technology, the WMF 5000 S+ guarantees an optimal coffee experience every time. Say goodbye to messy, unsatisfying cups of coffee and hello to the perfect cup every time with the WMF 5000 S+ coffee machine.
Dynamic Coffee Assist
The WMF 5000 S+ coffee machine comes equipped with an unparallelled system called Dynamic Coffee Assist that ensures the highest quality of all espresso-based coffee specialities. This system monitors the brewing flow continuously and makes automatic adjustments to the grinding degree or coffee quantity as necessary, guaranteeing consistent brewing time, extraction, and value.
Once beverage quality has been set, Dynamic Coffee Assist works in the background, making sure that each cup is prepared to perfection. With this innovative system, you can rest assured that your customers will always enjoy a consistently excellent cup of coffee, no matter the time of day or the quantity of coffee being brewed. Choose the WMF 5000 S+ coffee machine for a coffee solution that guarantees quality every time.
Dynamic Milk Assist
The WMF 5000 S+ coffee machine comes with the innovative Dynamic Milk Assist technology that ensures the constant high quality of all milk drinks. This state-of-the-art system uses advanced sensors to monitor the temperature in the cooler and the milk flow in the machine continuously. Based on these values, it regulates factors like the pump speed to create perfect milk foam of the pre-selected consistency, delivering a consistent and delicious drink every time.
The Dynamic Milk Assist system can even detect when the milk level is empty, even in bag-in-box systems, allowing you to provide your customers with uninterrupted service. With the WMF 5000 S+ coffee machine, you can guarantee that each milk-based beverage you serve is prepared with the highest quality standards in mind, giving your customers an experience that they will want to return for time and time again.
WMF Autoclean
The WMF 5000 S+ coffee machine comes with the innovative Dynamic Milk Assist technology that The WMF 5000 S+ coffee machine is designed to simplify your operations with its innovative WMF AutoClean system. With this technology, manual cleaning of the coffee and milk systems is a thing of the past.
The WMF AutoClean system streamlines your cleaning processes and takes care of everything, from cleaning the milk lines to descaling the machine, without the need for any manual intervention. Simply configure the cleaning cycle once, and the WMF AutoClean system will do the rest, independently and automatically. This ensures that the machine is always clean and ready to use, saving you time and effort while guaranteeing the highest levels of hygiene and sanitation. Choose the WMF 5000 S+ coffee machine for a hassle-free and efficient coffee solution that lets you focus on what matters most - providing exceptional coffee experiences to your customers.
Fill Level Sensor
The WMF 5000 S+ coffee machine is designed with the innovative Fill Level Sensor technology that enables continuous detection and monitoring of the bean and powder supply in the corresponding hopper. This feature helps you to manage your inventory levels by providing you with real-time alerts when the supply in the hopper is running low.
As soon as the coffee machine detects that the supply is nearing its end, it shows a refill reminder on the display, allowing you to refill the hopper with beans, powder, or toppings in a timely manner. This ensures that the machine is always stocked and ready to use, helping you to avoid downtime and keep your customers happy with a steady supply of their favourite beverages. Choose the WMF 5000 S+ coffee machine for a reliable and efficient coffee solution that enables you to streamline your operations and focus on delivering exceptional coffee experiences to your customers.
Cup Sensor 
The Cup Sensor is an optional feature available with the WMF 5000 S+ and the WMF 1500 S+ coffee machines that allows for a truly customised coffee experience for every cup. The Cup Sensor technology recognises the cup placed on the drip tray and automatically moves the spout to the perfect distance above it, ensuring that the coffee is dispensed directly into the cup without any spills or overflows. This feature can also be programmed to preselect specific beverage options or cup sizes based on the cup used, making the selection process much simpler and faster for your staff. With the Cup Sensor, your customers can enjoy a seamless and personalised coffee experience while you benefit from enhanced operational efficiency and reduced waste. Choose the WMF 5000 S+ or the WMF 1500 S+ coffee machines with the Cup Sensor feature for a smarter and more intuitive coffee solution.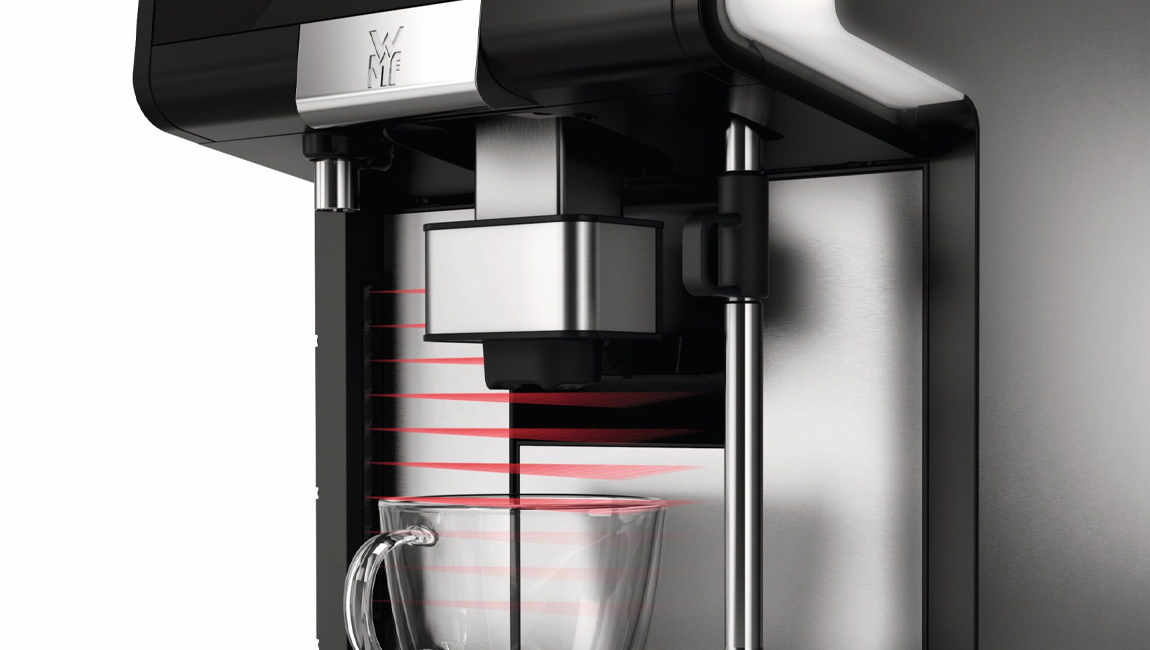 Fresh Filtered Coffee 
WMF's latest innovation, the Fresh Filtered Coffee feature, allows you to offer both premium coffee specialities and refreshing filtered coffee from a single machine. Using the new filter capsule system, every cup is freshly brewed from aromatic coffee beans and then gently filtered to remove sediment and oils.
The system maintains a consistent temperature and volume, ensuring that each cup of filtered coffee has the same delicious and fresh flavour. This unique combination of two different brewing methods is sure to please all coffee lovers.
Chilled Coffee 
Introducing a refreshing twist to the world of coffee beverages, the WMF 5000 S+ now offers a new feature that allows you to make chilled coffee drinks. Using a state-of-the-art heat exchanger, hot coffee is quickly cooled down, making it the perfect base for creating iced coffee and other delicious drinks.
The innovative cooling system ensures that the ice or ice cream added to the drinks stays frozen for longer, giving your customers a refreshing and satisfying experience every time.
Hot Chocolate
The WMF 5000s+ takes hot chocolate to the next level with its exceptional feature designed to deliver a rich and luxurious hot chocolate drink. This machine features a unique chocolate dispenser and a state-of-the-art hot milk system that produces a perfect blend of chocolate and milk. With the ability to customise the milk and chocolate ratios, adjust the temperature, and control the froth level, the hot chocolate produced by the WMF 5000s+ is tailored to individual preferences. The end result is a delectable and consistent hot chocolate experience, providing the perfect indulgence for all chocolate lovers.
WMF CoffeeConnect as a Standard
WMF's CoffeeConnect system offers a convenient way to access and manage important data related to your coffee machine. Whether you're on-site or working remotely, you can easily track your sales figures and receive real-time service alerts. You'll be notified of low consumable levels and alerted when maintenance is required.
Additionally, the system enables two-way communication, allowing you to send custom promotions directly to the display of your selected coffee machine. While basic functions are offered at no charge, the WMF CoffeeConnect system collects, analyses and processes valuable data related to your coffee machines, enabling you to optimise processes, minimise service expenses and maximise sales.
Technical Specifications
Recommended daily / max. hourly output*
Up to 250 cups
Nominal output / Power supply
Easy Milk
Dynamic Milk

3,01–3,51 kW / 220–240 V or 8,41–9,96 kW / 380–415 V
3,01–3,51 kW / 220–240 V or 8,41–9,96 kW / 380–415 V
Output per hour according to DIN 18873-2*
Espresso / 2 espressos
Café Crème / 2 café crèmes
Cappuccino / 2 cappuccinos
144 / 220 cups
112 / 136 cups
144 / 220 cups
Cold milk beverages
Easy Milk / Dynamic Milk

✔ / ✔
Cold milk foam beverages
Easy Milk / Dynamic Milk
– / ✔
Total hot water output / hour (220–240 V)
Easy Milk / Dynamic Milk

160 cups
Total hot water output / hour (380–415 V)
Easy Milk / Dynamic Milk

180 cups
Energy loss per day according to DIN 18873-2
Easy Milk / Dynamic Milk

1,55 kWh / 2,23 kWh
Coffee bean hopper
Right and left approx. 1100 g, centered approx. 700 g
Choc or topping hopper (optional)
Approx. 2000 g
External dimensions (width / height** / depth)
325 / 716 / 590 mm
Water supply
Constant water supply connection
Empty weight
Approx. 37 kg
Continuous sound pressure level (LpA)***
< 70 dB(A)
* Output is determined using a machine with a constant water supply and is dependent on cup size, quality settings, spout, model and nominal power rating. The recommended maximum daily capacity is based on our catalogued service concept. However, these average values serve merely as a guideline. Let our trained WMF team match the ideal coffee machine design to your specific needs.
** Height with coffee bean hopper.
*** The A-rated sound pressure levels LpA (slow) and LpA (impulse) at operating personnel workstations are below 79 dB(A) in every operating mode.

A WMF water filter needs to be used with a carbonate hardness of 5° dKH and above.
Great Taste Guaranteed
Free Delivery
Customer Feedback