Flexible Hopper Configuration
With the WMF 1500 S+, coffee customisation is at your fingertips. The machine offers up to three hoppers, giving you the flexibility to choose from two types of coffee beans, chocolate powder, or twin toppings. If you prefer using ground coffee, the manual insert option is available, perfect for decaffeinated coffee. The left and right bean hoppers can hold up to 1100 g, while the central one has a 700 g capacity. The powder hopper can hold up to 2000 g of powder. To ensure easy cleaning, the lockable lids of the hoppers are removable and dishwasher-safe, and their coordinated design provides an attractive visual impact.
Up to 2 Coffee Grinders
Elevate your coffee game with the WMF 1500 S+. With the option to use up to two different grinders, the machine allows for a wide variety of premium coffee specialities. These electronically controlled, high-performance grinders are not only robust but also quick and quiet, ensuring a seamless coffee-making experience. Their fine adjustment feature ensures that every cup of coffee is perfectly ground, adding to the overall quality of the coffee.
These long-lasting grinders guarantee a consistent level of quality and performance over time, making the WMF 1500 S+ a reliable choice for any coffee shop or restaurant.
10" Colour Touch Display
Attract your customers with the interactive design of the WMF 1500 S+. The machine's 10" colour touch display features realistic product depictions and individual colour worlds that make it an eye-catching addition to any coffee shop or restaurant.
With familiar touch and swipe menus, the display is easy to navigate, and both served and self-service modes are available. In addition to displaying nutritional information, the screen can also show videos to promote special offers during certain times of the day. With the WMF 1500 S+ display, you can create an engaging and personalised experience for your customers.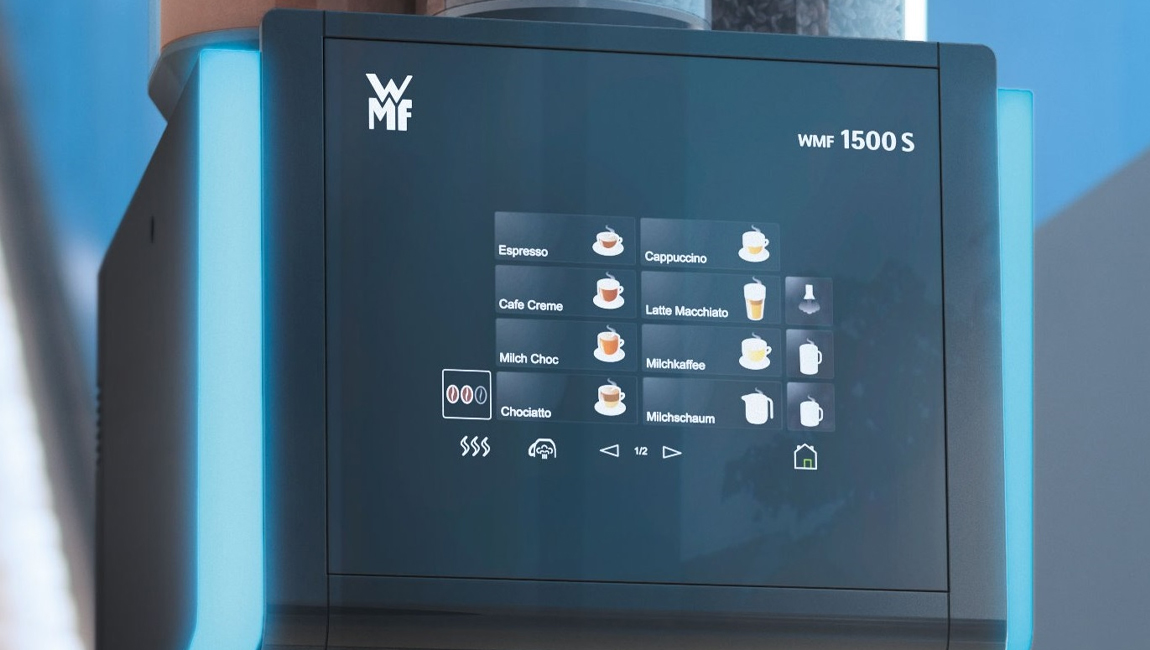 Advertising
With the WMF 1500 S+, you can take advantage of your customers' attention and increase sales with the machine's 10" touch display. The colourful screen offers eye-catching advertising and tailored special offers, allowing you to engage with your customers while their beverages are being prepared.
Use the display to showcase your daily specials or promote upcoming events, maximising the opportunity to generate additional revenue. The WMF 1500 S+ offers a unique opportunity to enhance the customer experience and increase sales by making the most of their time spent waiting for their beverages.
Automatically Height-Adjustable Spout
The WMF 1500 S+ is designed to provide a seamless coffee experience. With the optional Dynamic Milk system installed, the spout automatically adjusts to the optimal height for each beverage selected based on the preset value for each recipe. This feature ensures that the beverage temperature is perfect and eliminates unsightly splashes of milk on the housing. With the Dynamic Milk system, you can trust that each cup of coffee is prepared with precision and care, providing a consistent and high-quality experience for your customers. The WMF 1500 S+ spout is the perfect addition to any coffee shop or restaurant looking to streamline their coffee-making process.
Dynamic Coffee Assist
Experience consistently excellent coffee with the WMF 1500 S+'s Dynamic Coffee Assist system. Once the beverage quality is set, this innovative feature continuously monitors the brewing flow, automatically adjusting the grinding degree or coffee quantity as needed. This ensures that the brewing time, extraction, and value remain constant, guaranteeing the highest quality of all espresso-based coffee specialities offered by the machine.
With Dynamic Coffee Assist, you can trust that every cup of coffee is brewed to perfection, providing a consistent and enjoyable experience for your customers. The WMF 1500 S+ is the ideal choice for any coffee shop or restaurant that values quality and consistency.
Dynamic Milk Assist
The WMF 1500 S+ features the innovative Dynamic Milk Assist technology that ensures consistent high-quality milk drinks. This state-of-the-art system uses advanced sensors to constantly monitor the temperature and flow of milk in the machine. Based on these values, it makes automatic adjustments to factors such as pump speed to create the perfect milk foam of the pre-selected consistency.
Additionally, Dynamic Milk Assist can also detect when the milk level is running low, even in bag-in-box systems, to ensure that your machine is always fully stocked and ready to deliver delicious milk drinks.
WMF Autoclean
The WMF 1500 S+ is designed with convenience in mind, making it the perfect addition to any coffee shop or restaurant. With the innovative WMF AutoClean system, manual cleaning of the coffee and milk systems is a thing of the past. Simply configure the cleaning cycle once and let the system take care of the rest, independently and automatically. This feature saves time and ensures that the machine is always clean, providing a hygienic and reliable coffee-making experience.
With WMF AutoClean, you can focus on serving your customers and leave the cleaning to the machine. The WMF 1500 S+ is the ideal choice for any coffee shop or restaurant looking to streamline their coffee-making process.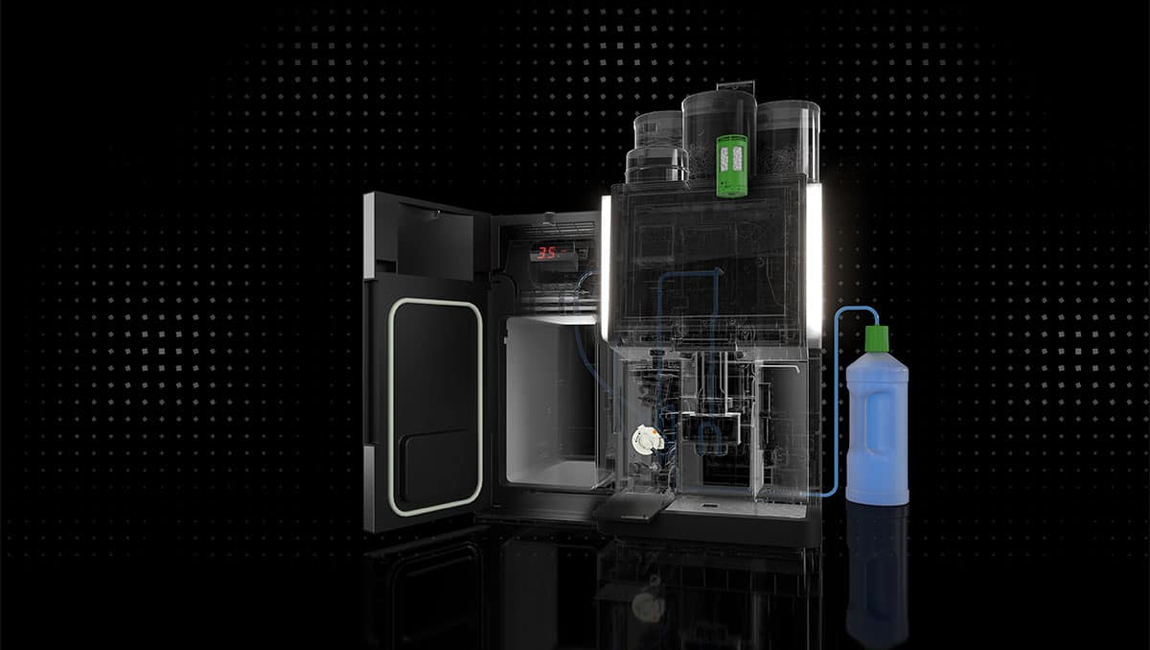 Fresh Filtered Coffee
The WMF 1500 S+ introduces the innovative Fresh Filtered Coffee option, allowing you to serve both fine coffee specialities and fresh filtered coffee from a single machine. The new filter capsule system ensures that each cup of coffee is freshly brewed from aromatic coffee beans, then smoothly filtered to remove sediment and oils.

This system guarantees a constant temperature and volume, so every cup of filtered coffee is as wonderfull flavourful and fresh as the last. With WMF's Fresh Filtered Coffee, you can provide a range of coffee options to suit any taste, making the WMF 1500 S+ the perfect choice for any coffee shop or restaurant.
Hot Chocolate
The WMF 1500s+ boasts a unique and remarkable feature - the ability to produce a delectable and smooth hot chocolate drink. This machine employs a specially designed chocolate dispenser and a hot milk system to create the perfect balance of chocolate and milk. Customisation is key, as the ratios of milk and chocolate, temperature, and froth level can all be adjusted to cater to individual preferences. As a result, the hot chocolate produced by this machine is not only scrumptious but also consistently of the highest quality.
WMF CoffeeConnect as Standard
The WMF 1500 S+ is equipped with the innovative WMF CoffeeConnect system, providing you with the ability to collect valuable machine data. With CoffeeConnect, you can access an overview of your sales figures and current service information from anywhere, giving you the ability to make informed business decisions.
The system also provides warnings when consumables are running low or when maintenance is required, ensuring that your machine is always operating at peak performance. Furthermore, the bidirectional design of the system allows you to send tailored promotional offers directly to the display of a selected machine, enabling you to increase sales and drive customer engagement. The basic functions of WMF CoffeeConnect are available free of charge, providing you with the tools you need to processes, reduce service costs, and boost your sales.
Technical Specifications
| | |
| --- | --- |
| Recommended daily / max. hourly output* | Up to 180 cups |
| Nominal output / Power supply | 2.75 - 3.25 kW / 220 - 240 V |
| Coffee bean hopper | Right and left approx. 1100 g, centered approx. 550 g |
| Choc or topping hopper (optional) | Approx. 1500 g |
| External dimensions (width / height** / depth) | 325 / 706 / 590 mm |
| Empty weight (depending on con guration) | Approx. 37 kg |
| Continuous sound pressure level (LpA)*** | < 70 dB(A) |
| Water supply | Water tank (approx. 4.5 l) or fixed water supply |
* Performance was recorded using a machine with fixed water supply and is dependent on cup size, quality settings, spout, model and nominal power rating. The basis for the recommended max daily capacity is the respective selected service concept. These average values are provided as a guide. Let our trained WMF personnel put together a customised coffee machine solution for you.
** Height with bean hopper with lock, no lock.
*** The A-weighted sound pressure level LpA (slow) and LpA (impulse) in the operating personnel ́s workplace is always under 70 dB(A) in every mode of operation.
From 5° dKH (carbonate hardness), a WMF water filter must be fitted.
Great Taste Guaranteed
Free Delivery
Customer Feedback