WMF 1100 S
In the realm of coffee culture, few names garner as much respect and admiration as WMF. The German-born WMF Group has been leading the charge in the field of premium kitchenware and tableware since 1853. In the 21st century, they've taken their legacy of precision, quality, and design to the world of coffee machines, and their flagship model, the WMF 1100 S, is a testament to their dedication to coffee perfection.
Compact Design, Big Performance
Despite its compact size, the WMF 1100 S is a heavyweight when it comes to performance. It's perfectly suited for small offices, boutiques, galleries, or businesses of up to 40 staff. The compact design makes it easy to fit into any space, while its sleek aesthetics add a dash of elegance wherever it's placed.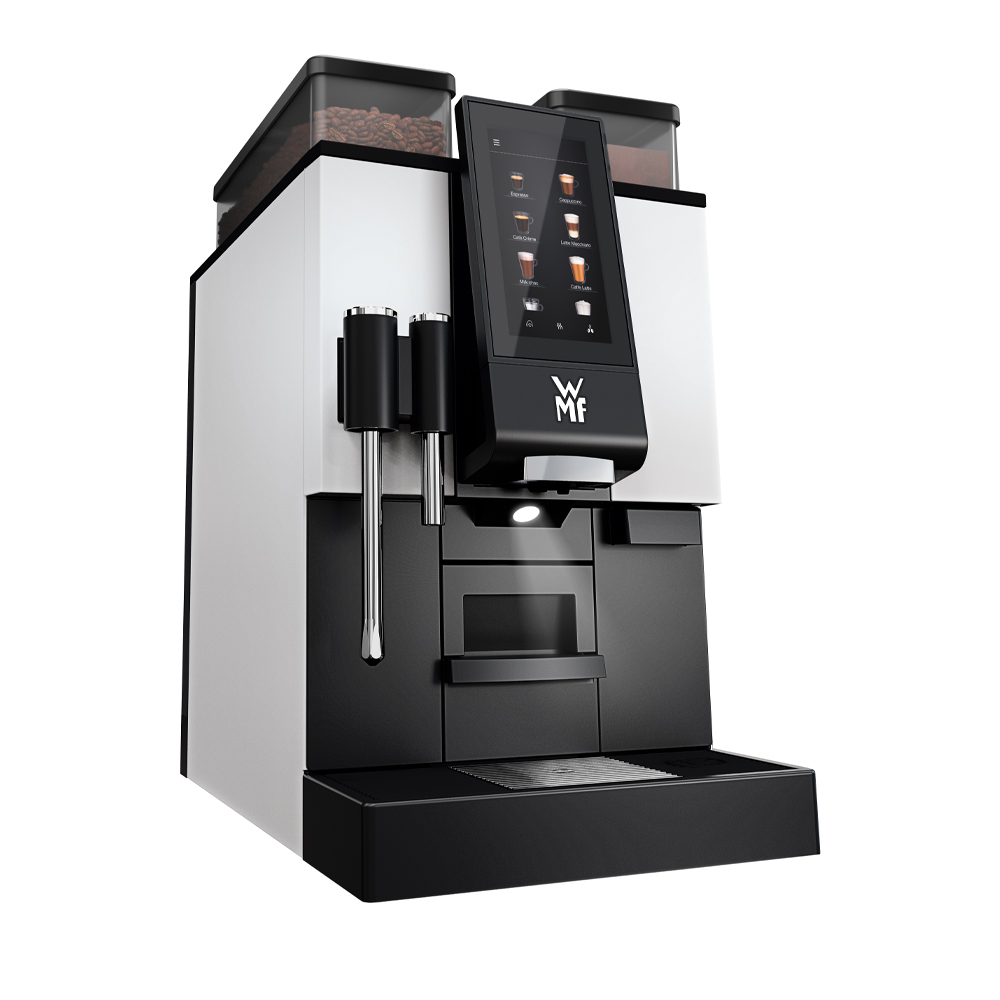 Diverse Coffee Selections
With the WMF 1100 S, coffee choices are abundant. Whether you fancy a classic Espresso, a creamy Latte, or a frothy Cappuccino, this machine can do it all. It can even craft a perfect Americano or a beautifully layered Macchiato. Plus, with its hot water spout, the WMF 1100 S can whip up a comforting cup of tea or hot chocolate, making it a versatile addition to any setting.
Cup Warmer
SteamJet is an innovative feature of the WMF 1100 S, utilising advanced WMF technology to quickly warm every cup in just a few seconds with the natural power of steam. This ensures that every beverage is served at the ideal temperature while also keeping it hot for longer periods of time. With SteamJet, you can achieve true coffee perfection and offer your customers an exceptional coffee-drinking experience.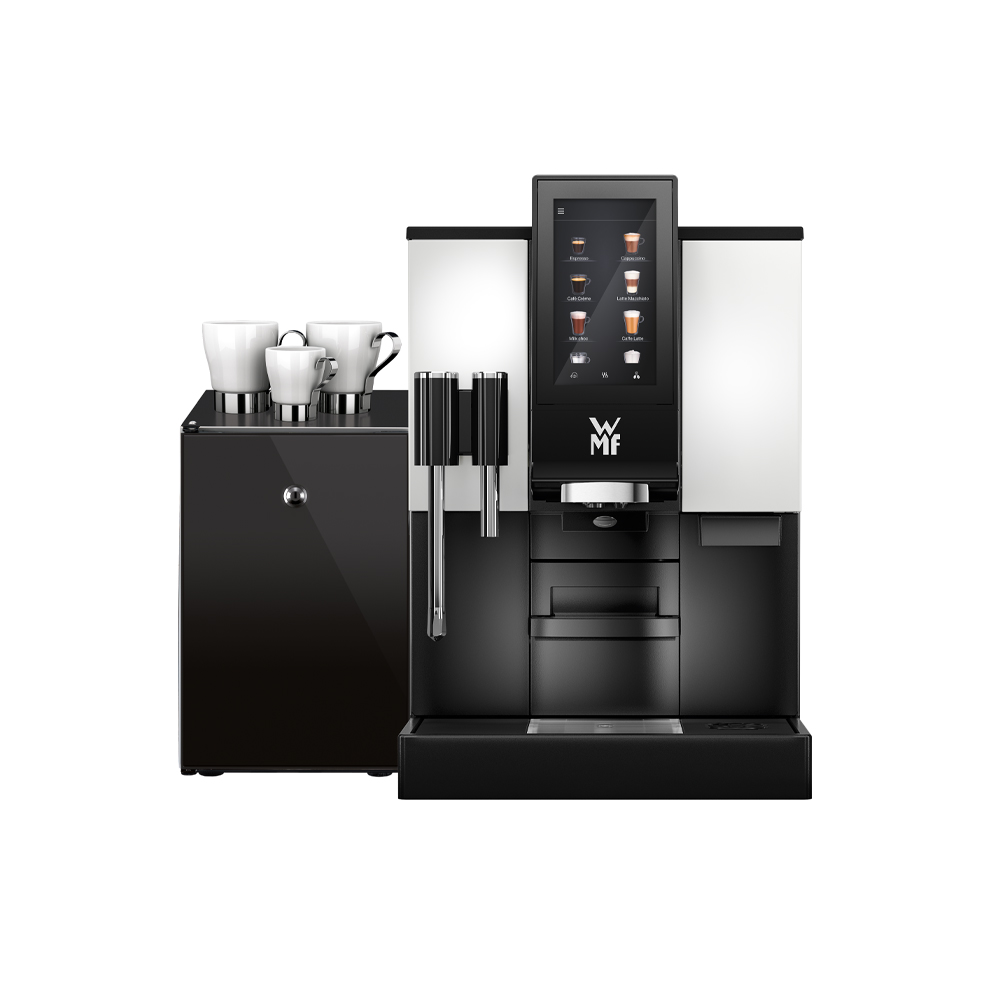 Unparalleled Flavour
The machine's precision grinding and brewing system ensures each cup of coffee is brewed to perfection, capturing the unique flavours of each coffee bean.
Intuitive Operation
One of the standout features of the WMF 1100 S is its intuitive touch display. Even the most novice of users can navigate the menu and make their selection with ease. The machine's automatic cleaning program makes maintenance a breeze, ensuring that you spend more time savouring your coffee and less time cleaning up.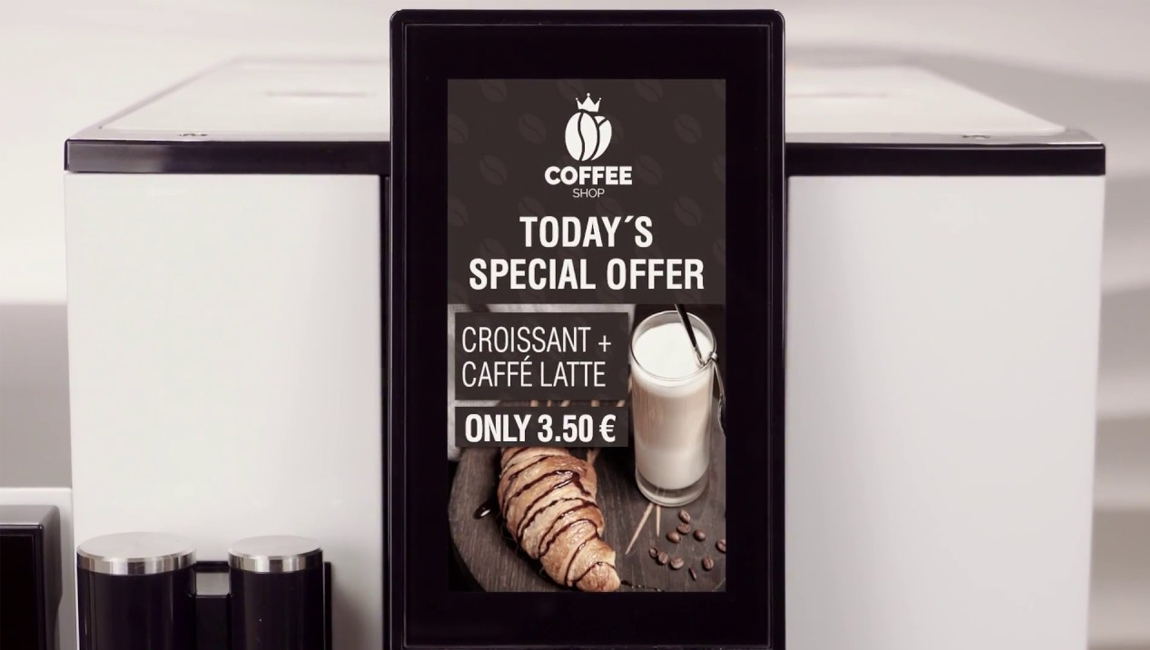 Sustainable and Efficient
Sustainability is a key feature of the WMF 1100 S. The machine is energy-efficient, with an automatic standby mode that saves electricity when the machine is not in use. Furthermore, it is designed to last, crafted from high-quality materials that withstand the test of time. This is a coffee machine that you can use with a clear conscience.
Manual Coffee Insert
The WMF 1100 S is equipped with a convenient manual insert, which allows you to use different types of ground coffee for specific beverages. For example, if you want to make a decaffeinated espresso, you can easily swap out regular ground coffee for a decaf alternative using this feature. This provides greater flexibility and customisation options, allowing you to cater to the unique preferences and needs of your customers.
WMF Coffee Connect
With WMF CoffeeConnect, you have the option to gather valuable machine data from your WMF 1100 S coffee machine. This system allows you to obtain an overview of your sales figures and current service information at any time, regardless of your location. It also provides warnings when consumables are empty, or maintenance is required. The bidirectional design of the system allows you to send tailored promotional offers from your desk directly to the display of a selected machine, making it a powerful marketing tool.
The basic functions of WMF CoffeeConnect are available free of charge, and the system collects, analyses, and processes data about your coffee machines, enabling you to optimise processes, reduce service costs, and increase sales. With WMF CoffeeConnect, you can make informed decisions about your business and take advantage of the latest technology to stay ahead of the competition.
*WMF coffee connect is an additional service; you will need the additional "Coffee Connect" unit.
Technical Specifications:
Recommended daily / max hourly output*
Up to 80 cups
Hourly output according to
DIN 18873-2
for Espresso
for Café Crème 
for Cappuccino
1.9 - 2.3 kW / 230 V
Fresh milk beverages
Basic Milk
Basic Milk + Basic Steam
1 or 2 integrated coffee hoppers / Enhancements (choc or topping variations, generally only one coffee hopper)
approx. 550 g/ With enhancements approx. 1400 g
(Filling capacity dependent on coffee bean size)
SteamJet
Basic Milk
Basic Milk + Basic Steam


✔
✔

Total hot water Output/hour
110 cups (22 litres)
Manual milk foaming and beverage heating
Basic Milk
Basic Milk + Basic Steam

-
✔
Energy loss per day according to DIN 18873-2 Topping / Basic Milk
approx. 0.76 kWh /day
Outer dimensions (width / height** / depth)
325 / 500 / 561 mm
!

 The required depth changes due to milk hose guidance in connection with the following coolers:

Depth for:
03.9190.5001: 631 mm
03.9192.6011 / 03.9192.6021 / 03.9192.6041 / 03.9469.6041 / 03.9469.7012 / 03.9469.7022: 616 mm
Water supply Tank
approx. 4.5 litres
Empty weight depending on configuration
approx. 25.5 kg
Continuous sound pressure (LpA)***
< 70 dB(A)
** Height included Display. Height of top cover without display and enhancements: 460 mm. Height of product hopper enhancements, incl. lock (without key): 556 mm.
*** The A-rated sound pressure level LpA (slow) and LpA (impulse) at service staff works stations is under 70 dB(A) in any Operation mode.

Above 5˚ dKH (water hardness), a WMF water filter must be fitted.
Great Taste Guaranteed
Free Delivery
Customer Feedback